Pharma Water & Steam Testing

pharmaceutical water and steam
Water Testing Labs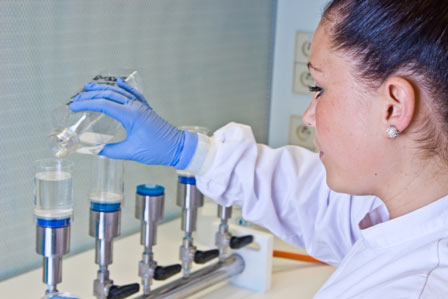 Honeyman Laboratories offer Chemical analysis, Physio-Chemical analysis, Microbiological and Quantitative Endotoxin testing for all types of pharmaceutical water and steam. From feed water to WFI to pure steam.
Our specialist water quality knowledge enables us to interpret water analysis results in terms of plant performance and provide advice.
Compendial Analysis to the current EP/USP/JP for bulk Purified Water/WFI and other grades
Non-Compendial Chemical Analysis of samples from water systems.
Non-Compendial Microbiological Analysis of samples from water systems.
Routine Testing Techniques Include:
Total Organic Carbon (TOC) Analysis
Conductivity
Wet Chemical Tests for Pre-Treatment and Purification Assessment
Quantitative Endotoxin (LAL) Analysis
Total Viable Count (TVC) Analysis
Absence of Objectionable Organisms
HTM 2030
HTM 2031 for Dishwasher Disinfector Water and Clean Steam Samples.
Condensate analysis to HTM 2010, EN 285 or Water For Injection (WFI) specifications.
To discuss your water testing requirements, please contact us.
Our Customers: